Address: Russia, Saint-Petersburg, Dvortsovaya emb., 34
Duration:
Intermission: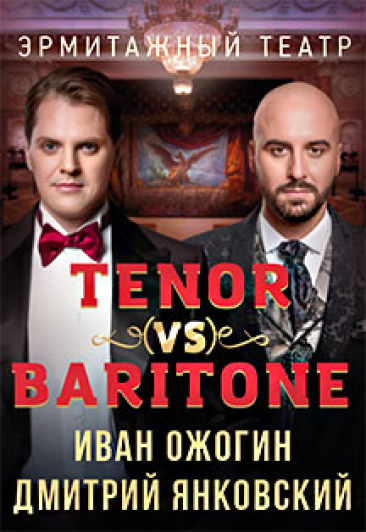 Tickets are sold in the city's box office
Ticket price: 2 500₽
On November 17 and 18, in the heart of St. Petersburg, in the interiors of the magnificent Hermitage Theater, we invite you to plunge into the atmosphere of the legendary vocal opposition between tenor and baritone - Ivan Ozhogin and Dmitry Yankovsky. Favorite operatic works, musical hits, a bright crossover, bewitching arias - all this awaits you in two sections of the concert. Duets "Enemies" from Eugene Onegin, Figaro and Count Almaviva from the opera "The Barber of Seville", Rachmaninov, ballad Tomsky, In memory of Caruso and much more! Lyrical and light tenor notes against the passionate timbre of baritone. Who will win? With certainty, we can say that in any case, Her Majesty Music will win, and the audience will get a double pleasure from the magnificent vocal duo. The orchestra under Mikhail Golikov will organically link both vocal lines into a single powerful musical concept.
Schedule:
There are no events.