Address: Russia, Saint-Petersburg, Dvortsovaya emb., 34
Duration:
Intermission: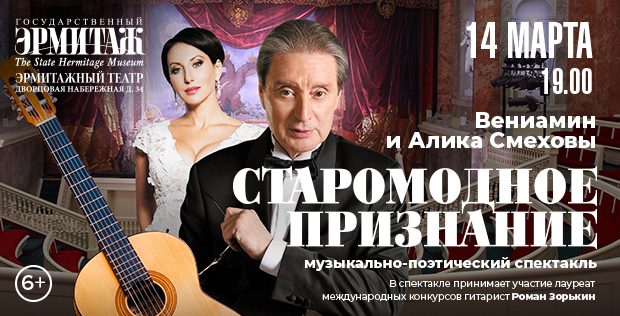 Duration:

-

Intermission:

-
Each guest from 0 years old must buy a ticket.
At all events in the Hermitage Theater there is a free seating.
Tickets WITHOUT SERVICE CHARGE!
Old fashioned recognition. Musical and poetic performance. Benjamin and Alika Smekhova.  The performance is attended by laureate of international competitions, guitarist Roman Zorkin. Actor Veniamin Smekhov often repeats the words of the great director Pyotr Fomenko: "Go back to front." Musical and poetic performance "Old-fashioned recognition" - the implementation of these words. "Old Fashioned Recognition" is a theatrical composition based on poems by Russian poets and popular romances of the 19th century. The poetry of the classics: Pushkin, Lermontov, Nekrasov, Mayakovsky, Yesenin, performed by one of the best Russian readers, takes listeners into the world of high culture, which the modern educated viewer is so yearning for. "Forward to a happy past!" Is one of the themes of the play.  Poems turn into guitar sounds. Roman Zorkin solos and accompanies when a wonderful actress and singer Alika Smekhova appears on the scene.  Romances - lyrical confessions in music and poems are awarded the love and addiction of Pushkin, Tolstoy, Kuprin, Leonid Andreev. Among the legendary performers of the twentieth century - Lyalya Chernaya, Varia Panina, Anastasia Vyaltseva - this is only the beginning of a solid list of masters of Russian romance. Alexander Vertinsky and Vadim Kozin, Alyosha Dmitrievich and Petr Leshchenko "made their vote" to his fame. Romances were heard at the time of the golden nineteenth century. For them, poets of the Silver Age wrote poems. They were called "counter-revolutionary gypsy" and banned after October 1917. They were temporarily rehabilitated during the years of World War II. And finally, they returned to Russian culture in the era of the "thaw." In the personal manner of Alika Smekhova, romances have long sounded: "If you can, I'm sorry," "At the fateful hour," "My bonfire is shining in the fog" and many others. "Old-fashioned recognition" is a musical and poetic performance about what was and is, it is direct evidence of the continuity of generations, and in the wonderful stage dialogue between father and daughter it is its unique feature.
Schedule:
There are no events.