Address: Russia, Saint-Petersburg, Dvortsovaya emb., 34
Duration:
Intermission: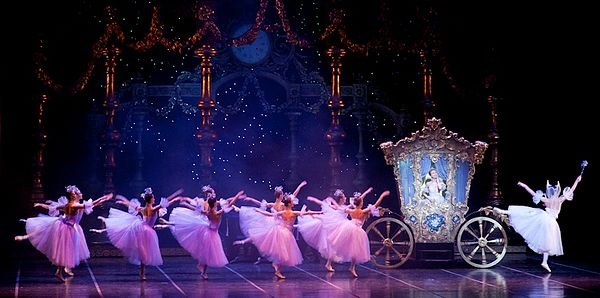 Duration:

-

Intermission:

1 Intermission
We draw your attention, tickets are sold for tickets at two tariffs:

1. A discount ticket is for citizens of the Russian Federation. (presentation of the passport of the citizen of the Russian Federation on control)
2. Full ticket - for foreign citizens.
Each guest from 0 years old must buy a ticket.
At all events in the Hermitage Theater there is a free seating.
Tickets WITHOUT SERVICE CHARGE!
The ballet by Sergei Prokofiev "Cinderella" based on the tale of S. Perrot directed by Oleg Vinogradov can be attributed to the choreographic classics of the twentieth century: for the first time the choreographer turned to the score in 1964. Since then, his ballet has been shown on many stages of the world. The choreographer, together with the troupe "St. Petersburg Ballet Festival" created a real fairy tale with a prince, fairy and magic. Colorful, colorful costumes, expressive choreography and, of course, the immortal story of kindness and hard work, in which justice and love will certainly triumph! FIRST ACTION Zlyuka and Krivlyak have just woken up, their morning begins a quarrel. A lively, joyful stepmother comes in with an invitation to the royal ball. Cinderella runs into the bedroom in a poor patched dress and heavy wooden clogs. She brings clothes for the whole family and helps dress lazy sisters. A tailor arrives with ball gowns, which he shows to his stepmother and sisters. Having completely quarreled, the family rehearses ballroom dancing. Cinderella is all at work. Having led her stepmother and sisters, Cinderella also thinks about the ball. Fairy sorceress generously rewards the girl and goes with her to the magical land. Beautiful fairies teach Cinderella to dance and dress up in a gorgeous dress. A fairy fairy instead of old clogs gives her sparkling shoes. Putting the girl in a magic carriage, she warns that at midnight you need to be at home. Cinderella goes to the royal ball. SECOND ACTION Ball opens. The king, ministers, court ladies and gentlemen, guests, trying to outdo each other, demonstrate secular manners. Stepmother, Zluka and Krivlyak are not inferior to others. The Prince appears. All the girls try to please him, but he tries to escape. Cinderella enters. Noticing a charming girl, the Prince forgets everything. The clock strikes midnight. With difficulty escaping from the embrace of a young man, Cinderella, having lost her shoe, runs away from the ball, already in an old, patched dress. The prince is in despair. THIRD ACTION The prince has been yearning for many days. He decides to find Cinderella on his own: he rushes through different countries and cities in search of a beautiful woman, but does not find her anywhere. A fairy sorceress appears. She shows the Prince the way to Cinderella's house. There he spots a girl hiding in a corner, covering her face with her hands. This is his favorite, and next - the second shoe.
Schedule:
There are no events.