Address: Russia, Saint-Petersburg, Dvortsovaya emb., 34
Duration:
Intermission: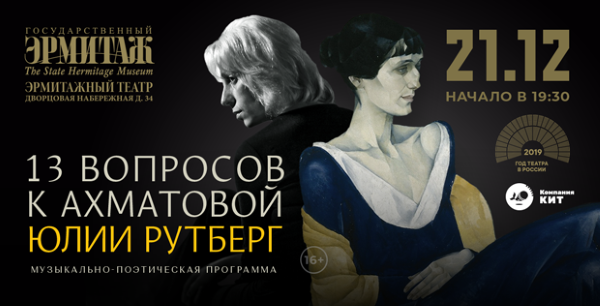 Duration:

-

Intermission:

-
Each viewer c 0 years old must purchase a ticket.
Free seating at events in the Hermitage Theater
Tickets WITHOUT SERVICE FEE!
"13 questions to Akhmatova" "Empress of the Russian word, Oracle, Cassandra, seer ..."   These epithets are only posthumous labels that are more suitable for the monument than for the person, they have no soul. But time, the most merciless judge, chose and preserved the Poet. What continues to attract people to it? What are they asking her, what answers are they finding? Let us try and find living meanings in already canonical verses.   The program includes: - 13 questions to Akhmatova; - 10 myths about Akhmatova; - 5 fortune-telling on the book of verses and its answers.   The author of the idea and the performer is People's Artist of Russia Yulia RUTBERG Musical accompaniment and accompaniment - laureate of international competitions Aleksey VORONKOV Director of the composition - Antonina VENEDIKTOVA The program includes music by Dmitry Shostakovich, Johann Sebastian Bach, Sergei Rachmaninov.
Schedule:
There are no events.