Address: Russia, Saint-Petersburg, Dvortsovaya emb., 34
Duration:
Intermission: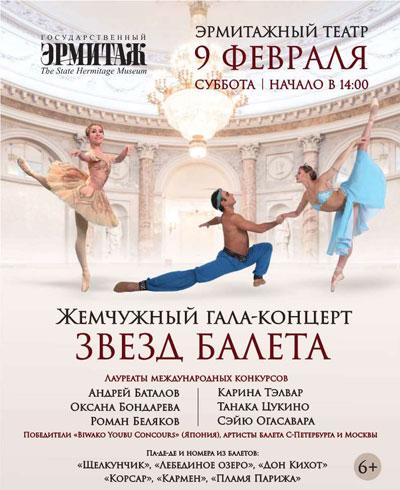 Duration:

02:00

Intermission:

1
Each guest from 0 years old must buy a ticket.
At all events in the Hermitage Theater there is a free seating.
Tickets WITHOUT SERVICE CHARGE!
Pearl Gala Concert of Stars of the Russian and Japanese Ballet. On February 9, a gala concert of Russian and Japanese ballet stars will be held at the Hermitage Theater. The program includes a collection of brilliant pas de deux and the numbers of the classic ballets Swan Lake, Nutcracker, Corsair, Don Quixote, Carmen, Romeo and Juliet. Leading soloists of St. Petersburg and Moscow, Honored Artists of Russia Mikhail Martynyuk, laureates of international competitions Oksana Bondareva, Karina Telvar, Valeria Martynyuk, Boris Zhurilova, Yuri Mirov and Grigory Popov gathered in a brilliant program an outstanding dancer, soloist Mariinsky Theater, winner of the World Grand Prix ballet competitions - Andrey Batalov. The master himself will appear in the captivating and passionate image of the Golden Slave from the ballet "Scheherazade". Among the participants of the concert and rising stars of ballet from Japan are the winners of the national contest "Biwako Youbu Concours". The first prize winner, the magnificent ballerina Tanaka Tsukino and her partner Sayla Ogasawara will perform one of the most virtuosic pas de Diana and Acteon from Esmerald ballet.
Schedule:
There are no events.