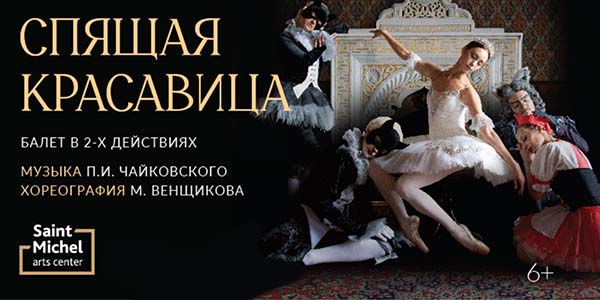 Hermitage Theater / Main hall
Address: Russia, Saint-Petersburg, Dvortsovaya emb., 34
Duration: 02:20
Intermission: 1
Ballet in 2 acts with a prologue Music: P.I. Tchaikovsky Production: Mikhail Venshchikov based on choreography by M.I. Petipa Stage design concept: bunk bed artist RF Vyacheslav Okunev Costume Designer: Tatiana Koroleva Video projection: Victoria Zlotnikova Ballet P.I. Tchaikovsky's Sleeping Beauty is based on Charles Perrault's fairy tale about Princess Aurora, who must be awakened from a century-old sleep by the kiss of a handsome prince. Light-winged fairies and sinister sorceress Carabosse, Puss in Boots and White Cat, Little Red Riding Hood and Gray Wolf accompany the heroes on their adventures, offering them to make a difficult choice between good and evil. Prince Désiré personifies the image of the Sun King - Louis XIV, the absolute monarch and perfect man. In the finale of the performance, the action is transferred to Versailles with its magnificent ceremony, where the characters of everyone's favorite fairy tales will be guests at the wedding celebration. In the production of Mikhail Venshchikov, The Sleeping Beauty preserves all the most famous fragments of the original Mariinsky production. At the same time, the action becomes more dynamic, and the parts of the main characters are more virtuoso. The characters of the play, which were previously exclusively mimic (the fairy Carabosse, Princes - contenders for the hand of Aurora, Catalabut) acquire detailed dance parts. Art Center "Saint-Michel" is a ballet company whose performances are well known in Europe, Japan, and South American countries. The classical choreography of the 19th century and original narrative ballets make the company's repertoire equally attractive to audiences of different generations and tastes. World ballet stars - soloists of the Mariinsky, Bolshoi, Mikhailovsky theaters, the Musical theater named after V.I. Stanislavsky and Nemirovich-Danchenko, Berlin State Ballet and other theaters.
Tickets are on sale at box offices and city agencies
Ticket price: 1500-3000₽
Schedule:
There are no events.